Monday, July 14
Search "JETTEAM" on
Etsy
to find all our unique, handmade jewelry!

About Me
Name: Cher
Location: Pinehurst, Texas, United States
I have always been a "crafty" person... love to draw & paint, and create... and since I've always loved jewelry (what woman doesn't?! lol), it just seemed like a natural seque to try my hand at designing & creating. It is a constant learning process, as there are so many ways to create, while still using your own personal style when designing... along with ever present new products ~ beads, crystals, findings... it's endless! And the search for unique pieces to design with is half the fun of the process. As an animal lover, I can't think of anytime where I've sought them out...they somehow seem to "find" me! I have always had at least 2 or 3 cats, a few birds; including a talking crow, parakeets, assorted exotic breeds of chickens, guinea hens, and a few wild birds I've rehabbed ~ sweet little doves, mockingbirds, blue jays (one lived in my house for over a year!) and I'm always amazed at how almost any living thing will respond to love & affection. It's been one of the many joys of my life!
Links
Tweet Tweet! I'm on Twitter!


By TwitterButtons.com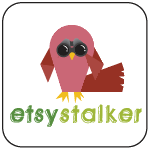 Previous Posts
Archives
Subscribe to
Posts [Atom]